The Power of Rodney's Pin
February-2015 Issue, 1 year later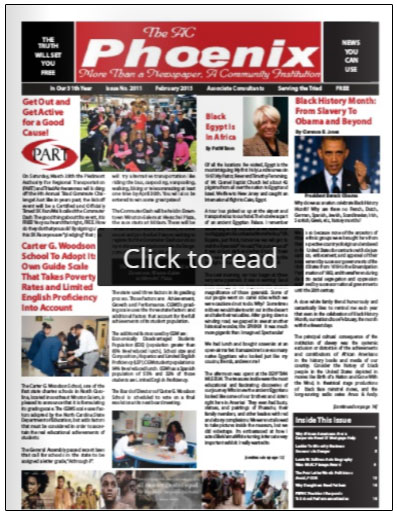 February 2016 marks the one year anniversary of Rodney Jerome Sumler's last issue as Publisher of The AC Phoenix Newspaper. He became ill while working on the February 2015 issue. He was hospitalized, but not before insuring that all the papers had been delivered. If fact it was a client that saw him delivering the papers and suggested he "go get checked out". Sumler spent several days in the hospital and was released on Thursday. He passed on to eternal rest 2 days later quietly in his home. He departed his earthly body doing what he loved - working on The AC Phoenix.. He was found by his wife Ann Sumler with a receipt for a new computer he had purchased for The AC Phoenix in his hand; he was laying peacefully on the floor with his head resting at his briefcase. In fact, he was heading out to pick up the computer the very day he passed away.

The bible declares in Ecclesiastes 7:1 A good name is better than fine perfume, and the day of death better than the day of birth.

Rodney Jerome Sumler worked until the day he passed away; understanding that knowledge is power and for a lack of it the people shall perish. That is why the AC Phoenix News was so important to him.

The AC Phoenix is a community newspaper founded by Sumler in 1983. The paper was originally launched as a resource for and about residents of the Piedmont Triad.

Since Sumler's passing, The AC Phoenix Online has extended its reach to include a wider ONLINE audience, however the primary focus continues to be on issues that affect the quality of life in our neighborhoods; including religion, education, politics, economic and development issues, and more. Our loyal readers turn to The AC Phoenix as the best source for positive news.

We need your help to insure this important community resource, treasure and legacy continues stronger than ever. Promote your business, church or event utilizing The AC Phoenix Online. Visit us 24/7 :http://www.theacphoenixnews.com/...
and remember to observe Rodney Jerome Sumler Day every March 13rh!
Dorrel Brown
Publisher
THE AC PHOENIX FOUNDERS DAY - EVERY MARCH 13th